The Heritage for the Blind continues to stress one theme throughout all that we do. You are not alone!

Find Services
Whatever kinds of services you need, whether private or government- sponsored, you will find it in our Find Services section.

Product Discounts
Along with participating vendors, we are pleased to offer you discounted prices on visual aid products from A-Z.

Phone Pals
Connect with people who share similar situations and interests by joining our Phone Pal program.

Computer Access
Learn all about today's accessibility technology.  Get free downloads and great information on how to make your computers and gadgets user friendly to the visually impaired.
Featured Publication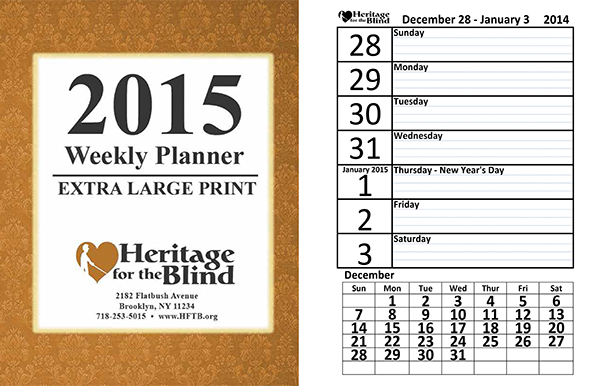 2015 Weekly Planner in EXTRA LARGE PRINT
Click here to request your copy
Get the latest medical news on research and treatment of various eye conditions.  Learn about cutting edge breakthroughs in bionic eye technology, treatment for diabetic retinopathy or progress in the fight against macular degeneration. –